Mass tourism is a form of tourism that involves tens of thousands of people going to the same resort often at the same time of year.
Mass tourism, in general has different aspects in the country where it takes place.
Here are different aspects of mass tourism:
The impact of tourism reflect on the natural environment such as land, water, air, flora and fauna, mostly because of the people and different cultures. Infrastructures and facilities require a lot of space and land prices tend to rise were is increasing.
For example :
the impacts to coral reefs from divers and snorkelers. They can be caused by damage from fin kicks, pushing or holding coral, dragging gear, and kneeling/standing on coral. Not all divers cause the same amount of damage.
·
on one hand tourism development increases both employment and income. The city of
Bath
is an example of tourism development with its annual $200 million of income which has a positive effect an infrastructures such as roads and public transport.
·
On the other, the seasonal and part-time jobs created by tourism are often underpaid. Unfortunately, the multinational companies often manage the tourist industry at the expense of the local

economy.
The development of tourism causes sometimes a rise in prices and this can be a problem for the local people, often penalized by an increase in the property prices too.
SOCIAL AND CULTURAL IMPACTS
The social and cultural impacts of tourism are the effects of the contribution of tourism that changes systems, social behaviour, family relationships, shared lifestyles, security levels, moral conduct, innovative language, conventional ceremonies and community organizations. "people impact" is very important, because host comunities are affected by it. It is necessary to have different points of view to explore and understand the impact of mass tourism.
ANIMALTOURISM IMPACT IN SOUTH AFRICA
LIONS: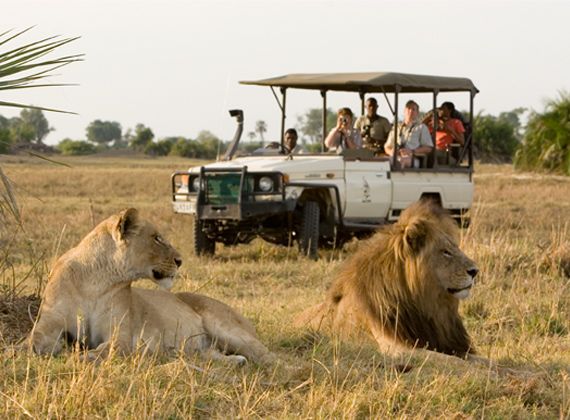 Within South Africa there are about 200 captive holding facilities, breeding lions are used exclusively for commercial use. Those facilities hold approximately 5.800 lions. The number of captive-bred lions in South Africa is believed to have doubled since 2005. It is very sad that today in South Africa

there are more captive lions than wild lions. Only a small part of south African wild life is held in free-roaming reserves.

Lion parks treat lions in captivity as a tourist attraction, like it is a oncein-a-lifetime experience, especially cubs are used to take pictures whit tourist and this generate major profits. They have a severe and negative impact on lion welfare and are of no direct conservation benefit.
TOURISM'S NEGATIVE EFFECTS IN ITALIAN ART CITIES
Venice residents, because of the huge number of tourists in the historical centre (about

350 per resident), are moving to the mainland, because the city is becoming a " monument-attraction" rather than a living town. The visitors don't help the economy of the city because they are essentially day-trippers or cruise-goers

who visit the city just for a few hours.. The Italian cities which attract the greatest number of tourists are Venice and Rome, other cities that host a lot of visitors are Milan and Florence.